Merknad: Dette innlegget er fleire år gammalt. Informasjonen kan vere utdatert.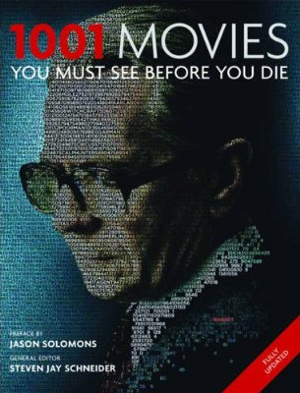 Like sikkert som at dei norske epla dukka opp i butikken, kom september med ei ny utgåve av den kjende kaffibord-boka 1001 Movies You Must See Before You Die. Dette er den 10. utgåva. Den fyrste kom i 2003. I år var det fjorten filmar som vart byta ut:
UT:
Apocalypto (2006)
Borat: Cultural Learnings of America for Make Benefit Glorious Nation of Kazkhstan (2006)
Fish Tank (2009)
Four Lions (2010)
In the Loop (2009)
Joheunnom nabbeunnom isanghannom (2008)
La meglio gioventu (2003)
Monsters (2010)
Once (2006)
Paradise Now (2005)
The Hangover (2009)
The Passion of the Christ (2004)
The Pianist (2002)
Uzak (2002)
INN:
Bridesmaids (2011)
Drive (2011)
Hugo (2011)
Jodaeiye Nader az Simin (2011)
Le gamin au vélo (2011)
Le Havre (2011)
Senna (2010)
Shame (2011)
The Artist (2011)
The Descendants (2011)
The Girl with the Dragon Tattoo (2011)
The Tree of Life (2011)
Tinker Tailor Soldier Spy (2011)
War Horse (2011)
I skrivande stund har eg sett 228 filmar frå den noverande lista og ytterlege 35 filmar frå tidlegare utgåver, av til saman 1103 filmar. Det er 950 filmar att frå den fyrste boka.
Les gjerne også 1001 Movies – 2011-utgåva.